Welcome to Shropshire Leather Care, My names Jared. Are you looking for leather sofa repairs or leather restoration for your upholstery? Then give me a call about professional leather sofa repairs & restoration in Telford, Shrewsbury and Shropshire
Leather upholstery tends to always be an expensive purchase, and once our favourite chair or sofa becomes damaged or worn we start to think reluctantly towards replacement. Your favourite chair or sofa may fit your décor or be the most comfortable piece of furniture you own. The problem is once they start to look a little sad many people just replace them at considerable cost.
Before you make that big decision to replace, STOP.  I invite you to read on and find out what Shropshire leather care can do for your furniture and almost any leather item from handbags to leather jackets. Speak to me first.
We always need to carry out a full pre-inspection. This helps us to determine what can be done, and sometimes what limitations there will be. We'd rather be upfront with you first off rather than tell you something can be done only for it to fall apart at a later point. Have a read on and see what we can do.
Leather sofa repairs
We offer a range of leather sofa repairs and leather furniture repairs. Work can be normally be undertaken at your home, We also offer to take items away up to a certain size if required
Colour fade or wear –  This normally happens from everyday wear and tear. Clear protective topcoats and finishes such as those on two-tone or chesterfields can be worn away. We can retouch these to virtually blend them back to their original colour. We can also retouch pigment loss caused by wear and tear, restoring that nearly new appearance.
Rips, tears, cuts and burns* – From small tears and cuts to burn marks and holes. We are able most of the time to correct the damage and blend the repair back into the upholstery leaving a virtually invisible repair. We can also recreate grain patterns if this is damaged too


Pet damage* – It's sometimes really unavoidable to stop your pets from scratching our favourite furnishings, but don't fear in most cases we are able to carry out leather scratch repairs and refinish the leather back to as close to the original colour as is possible.
*Please note, whilst all efforts are made to ensure repairs are invisible, it may sometimes be impossible to fully hide a repair.
Leather furniture restoration / Leather recolouring
Love your sofa, chair or favourite fashion item, but fancy a change? Do you know we can change the colour of your leather to virtually any colour you wish. So, before you chuck out that sofa which doesn't match your new décor, call us first. You'll be surprised at what we can do.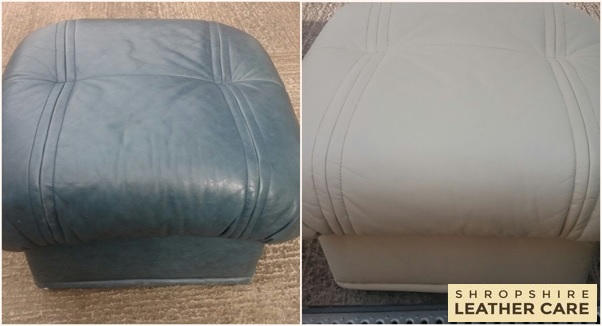 We can also re-dye aniline upholstery. So, if your favourite sofas faded, then we can re-dye it back to its former glory or fancy something darker, again no problem.
Have an item of furniture that needs some leather restoration? Give us a call and have a chat about what we can do for you.
To find out how much simply call us on 01952 794152 or fill in the inquiry form to book your FREE inspection TODAY. We look forward to speaking to you.
We can provide the following services:
Leather Sofa repairs
Colour re-touching
Aniline re-dying
Full re-colours
Pet damage
Full Restoration
Before & After's