Are you looking for a professional leather cleaner? Then welcome to Shropshire Leather Care, My names Jared. leather furniture looking tired and grubby? Then give us a call about professional leather cleaning in Telford, Shrewsbury and Shropshire
There are many types of leather available today from aniline and semi-aniline to pigmented leather and many more. Professional leather cleaning is a must when caring for your leather furniture or car interior and if done on a regular basis helps maintain its appearance and prolong the life of the leather. To be kept in peak condition your leather should be professionally cleaned approx. every year.
Cleaning removes the build-up of dirt and oils, which if left can over time start to break down the leathers protective coating and lead to loss of colour and other problems. Cleaning also helps to restore the suppleness of the leather keeping it in peak condition.
As part of our leather sofa cleaning service we protect your leather, this protects the leather against stains, water spills, or the buildup of grease from skin contact. This product is also available to purchase from us to keep your leather in great condition between cleaning intervals. For some leather's such as aniline, we offer a cleaning and conditioning service and we can also undertake to protect these against water-based spills. Our full service includes a full deep clean and protection applied after.

Grease and stain removal
In certain circumstances, grease and head oils through lack of maintenance can start to build up over contact areas. Over time this can start to break down finishes in the leather. We have specialist products which can remove this build-up but please note that grease removal can lead to areas needing to be restored*
Our specialist techniques have helped us to remove ink, pen and other daily stains. Sometimes though restoration may be required to fully hide the stain.
* Full grease removal cannot be guaranteed, as it may have damaged the leather further than is possible to reach. Whilst restoration may fix this problem. It is possible for the problem to reoccur damaging any restoration attempt
We offer professional leather cleaning in Telford, Shrewsbury & Shropshire. So for a free survey and inspection to assess what we can do for you and advise it any areas need repairing or restoring. This if required can be arranged to return your sofa back to its former glory.
Professional leather cleaner and protector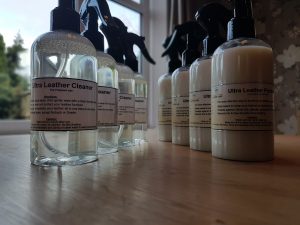 Available to all our customers is the opportunity to buy our leather cleaner and/or our leather protector, these products ensure your leather stays in tip-top condition whilst we're away and allows you to maintain your leather until the next scheduled clean. Please ask us for more details and prices
We can provide the following leather services:
Colour re-touching
Leather cleaning
Aniline re-dying
Full re-colours
Pet damage
Full Restoration